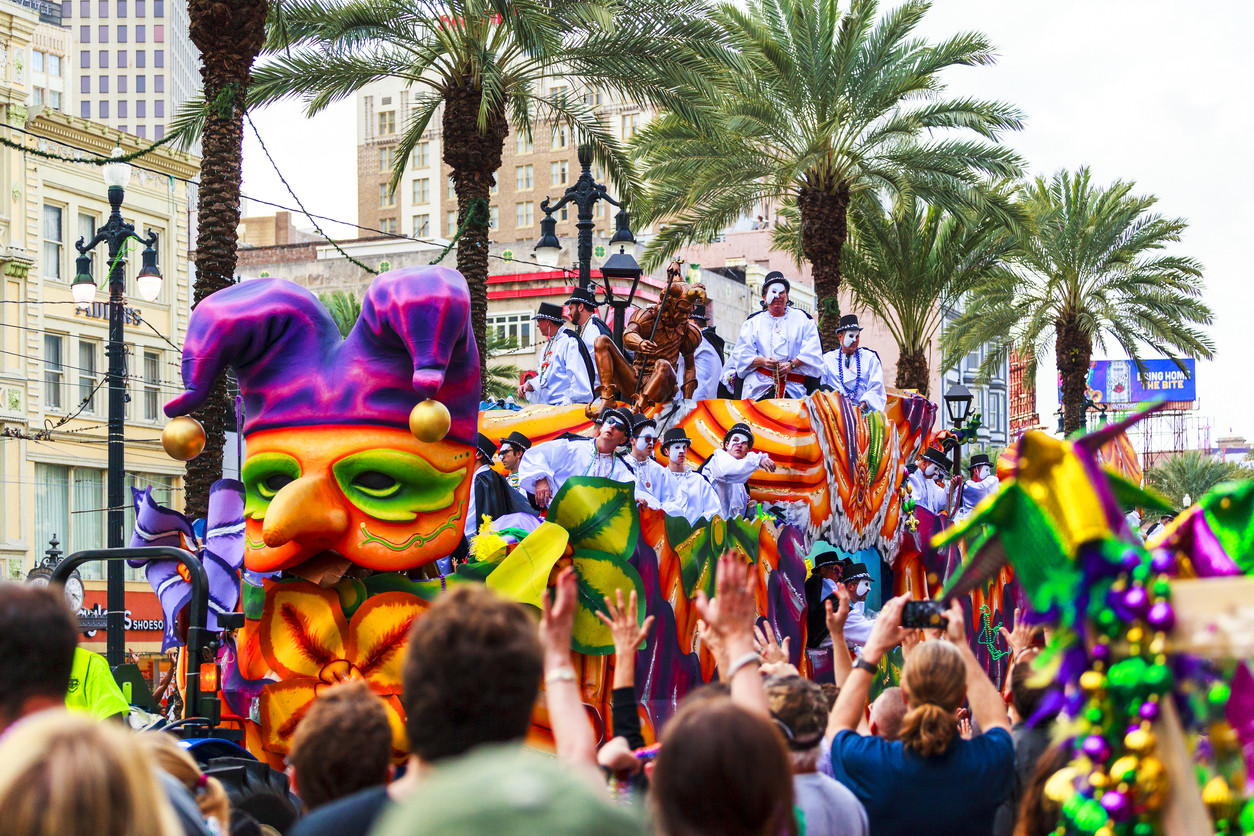 The carnival scene surrounding Mardi Gras is one of the most enchanted times to be in the city. Most of the parades that roll for Mardi Gras start uptown and meander down towards the French Quarter.
But because they often span half the length of the city, it can be difficult to know where to go.
Here are a few important things to remember: Parades are great fun, but they are also long.
Make sure that there are bathrooms nearby. One of the best ways to do this is to post up in front of a bar or restaurant along the parade route. Purchasing a cocktail or some food usually affords you the use of the facilities, which trust me, is a huge bargain.
Every Mardi Gras parade takes a slightly different route so be sure to pick up a Gambit, the local A&E paper, so you know exactly where to go.
Lee Circle
Most parades tend to pass by the only traffic circle in New Orleans. The large area around Lee Circle is perfect for getting a great spot to catch some great beads.
I like to stand in front of Bellocq, a cocktail bar that slings some of the best drinks in the city.
A luxury afforded to you by getting drinks from them is that if you're relatively sober and nice, they will probably let you use their restroom which is something that no local takes for granted. If you're looking for a good date idea, you won't want to miss this.
Polymnia & St. Charles
This intersection is prime real estate along the routes of most of the big parades. This area tends to be one of the more lively spots so make sure to expect a rowdy bunch.
On the corner is the famous local beer bar, Avenue Pub. Like before, if you buy drinks from them during the parade and tip well they will let you use the facilities.
Napoleon and St. Charles
Superior Seafood is a fantastic restaurant that holds up this corner of the New Orleans parade circuit.
Look up exactly when the parade plans to roll and then arrive early to get lunch at Superior Seafood. I always try to time it so that I am paying my bill just as the first floats start to drive by.
Lafayette Square at St. Charles
There aren't too many grandstands set for Mardi Gras but this spot is where to find the highest density of them.
Most of the stand owners will charge a small fee for enjoying the parades from higher up, but it is a price well worth paying if standing for hours fighting the crowds for beads isn't your thing.
Tchoupitoulas and Gravier for Muses
Situated right in front of the Windsor Court Hotel is one of the best places to catch the Muses parade.
The hotel usually places a drink stand right on their front steps for easy access so that you can stay well-stocked with cocktails while you pine for some of the most coveted throws of Mardi Gras, the Muses Shoe.